Celestron Astromaster 114EQ Telescope W/ Motor Drive & Phone Adapter
SKU: 32042
Click the image to enlarge
About this product
Manual German equatorial mount with setting circles to locate and track sky objects
Adjustable, full height steel tripod with deluxe accessory tray
Quick and easy no-tool setup
Accessories include a 20mm and 10mm eyepiece, a finderscope, a smartphone adapter, and a motor drive
The smartphone adapter connects your smartphone to your telescope, so you can capture images and video through the eyepiece
The adapter works with any eyepiece that has an outside diameter of 34mm
Motor drive automatically tracks celestial objects as they appear to move across the night sky
Discover our Solar System with the Celestron AstroMaster 114EQ! Youll be ready to observe in minutes thanks to the quick and easy no-tool setup. The 114EQ provides bright, clear images of the Moon, planets, star clusters, and more for great nighttime viewing.
Manual German Equatorial telescope
The AstroMaster mount comes with two slow motion control knobs that allow you to make fine pointing adjustments to the telescope in both Right Ascension and Declination axes, also referred to as RA and DEC.
Accessories Included
Accessories include a 20mm and 10mm eyepiece, a finderscope, a smartphone adapter, and a motor drive. The two eyepieces offer different magnifications for low and high powered views.
Motor Drive-Turn your manual German equatorial mount into a tracking mount by adding the included RA motor drive to your telescope. This easy-to-install RA motor drive compensates for the Earths rotation, so the telescope tracks a stars movement through the night sky from east to west. When the telescope mount is properly polar aligned and the RA drive is attached and running, the user need only make occasional adjustments in declination (Dec) to keep an object in the eyepiece for long periods of time. The Celestron single-axis motor drive runs on a 9V battery, so there are no cords to get in the way. The drive can be used in either the Northern or Southern Hemisphere. To change hemispheres (reverse the motors direction), simply by flip the N/S switch on the face of the motor drive. It is also simple to change the speed of the motor. A Speed Rate Regulator knob is located just under the power indicator and can be turned in either direction to slow down or speed up the motor. Since solar system objects like the Moon and planets move through the sky at different rates than deep-sky objects do, this gives you the ability to match the motors speed to the particular type of object you are observing.
Smartphone Adapter
Image celestial or terrestrial objects with this smartphone adapter. With its light, rigid frame, this accessory allows you to connect any smartphone to any telescope eyepiece with an outside diameter of 34mm. The additional magnification provided by the eyepiece allows your phone to capture great images of the Moon and planets.This adapter installs easily by placing the smartphone over the telescope eyepiece and tightening the knobs to securely lock your phone in place. The adapter accommodates most phones with the case on, but some large and/or bulky phone cases (including folio style cases) may need to be removed for the phone to fit in the adapter.
Starry Night Software
Download Celestrons Starry Night Software and learn about the night sky, celestial objects, and how to plan your next observing session. Celestron Starry Night Software is the premier astronomy software package on the market, providing resources and knowledge to view our solar system and beyond.
| | |
| --- | --- |
| Optical Design | Newtonian Reflector |
| Aperture | 114mm (4.48") |
| Focal Length | 1000mm (39.37") |
| Focal Ratio | f/8.77 |
| Focal Length of Eyepiece 1 | 20mm (.78") with built-in erect image corrector |
| Magnification of Eyepiece 1 | 50x |
| Focal Length of Eyepiece 2 | 10mm (.4") standard |
| Magnification of Eyepiece 2 | 100x |
| Barlow Lens | Not Included |
| Finderscope | Built-on StarPointer |
| Star Diagonal | None |
| Optical Tube | Aluminum |
| Highest Useful Magnification | 269x |
| Lowest Useful Magnification | 16x |
| Limiting Stellar Magnitude | 12.8 |
| Resolution (Rayleigh) | 1.22 arc seconds |
| Resolution (Dawes) | 1.02 arc seconds |
| Light Gathering Power (Compared to human eye) | 265x |
| Secondary Mirror Obstruction | 44mm (1.73") |
| Secondary Mirror Obstruction by Diameter | 38% |
| Secondary Mirror Obstruction by Area | 14% |
| Optical Coatings | TBD |
| Optical Tube Length | 457mm (18") |
| Optical Tube Diameter | TBD |
| Optical Tube Weight | TBD |
| Dovetail | CG-2 Dovetail bar |
| MOUNT INFO: | |
| Mount Type | CG-2 Equatorial |
| Height adjustment range (includes mount and tripod) | 812.8mm - 1295.4mm (32" - 51") |
| Tripod Leg Diameter | 31.75mm (1.25") steel |
| Accessory Tray | Yes |
| Tripod Weight | 7.6 lbs (3447.3 g) |
| Slew Speeds | Manual |
| Dovetail Compatibility | CG-2 saddle plate |
| Software | Starry Night Basic Edition | SkyPortal App |
| Total Kit Weight | TBD |
| Included Items | Optical tube | Tripod and mount (preassembled) | 20mm eyepiece with built-in erect image corrector | Standard 10mm eyepiece | Red-dot finderscope | Manual |
Contact us
Customer Reviews
Customer Reviews
Write a Review
Ask a Question
09/06/2020
Dylan A.
New Zealand
Amazing!
Great telescope! my first ever one and i love it. even with all the light pollution in central auckland, i have no problems seeing jupiter/saturn. highley recommend! the staff are SUPER helpful too!
09/03/2020
John M.
New Zealand
Awesome
Awesome to use. Great quality. Recommend.
Celestron Astromaster 14EQ Telescope
Really lovely product. I am very new to astronomy and haven't been to uni before so if I was given a choice this is probably the best things for me to start it. I found the instructions a bit confusing and still not sure on were to put the motor drive. The laser pointer doesn't align with the crosshair too well so just be aware of that but I yet to give this a good whirl so basically still happy with it. Thanks.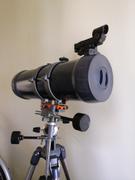 03/11/2019
Jacobs Digital
Hi Ben, The motor drive can be attached to the telescope instead of the RA slow-motion control. It's optional. To Align the finderscope (the little scope on the top), you need to point the telescope at something on land far away then adjust the dials on the finderscope so that the dot matches what you see through the eyepiece. There is no laser. Thanks Alex
Brought for my hubby's 50th,
Brought for my hubby's 50th, he seems to be enjoying his new toy, taking fabulous photos of moon and stars.