Contact us
Customer Reviews
Customer Reviews
Write a Review
Ask a Question
09/06/2020
Dylan A.

New Zealand
Amazing!
Great telescope! my first ever one and i love it. even with all the light pollution in central auckland, i have no problems seeing jupiter/saturn. highley recommend! the staff are SUPER helpful too!
09/03/2020
John M.

New Zealand
Awesome
Awesome to use. Great quality. Recommend.
Celestron Astromaster 14EQ Telescope
Really lovely product. I am very new to astronomy and haven't been to uni before so if I was given a choice this is probably the best things for me to start it. I found the instructions a bit confusing and still not sure on were to put the motor drive. The laser pointer doesn't align with the crosshair too well so just be aware of that but I yet to give this a good whirl so basically still happy with it. Thanks.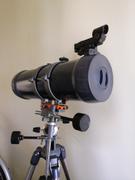 03/11/2019
Jacobs Digital
Hi Ben, The motor drive can be attached to the telescope instead of the RA slow-motion control. It's optional. To Align the finderscope (the little scope on the top), you need to point the telescope at something on land far away then adjust the dials on the finderscope so that the dot matches what you see through the eyepiece. There is no laser. Thanks Alex
Brought for my hubby's 50th,
Brought for my hubby's 50th, he seems to be enjoying his new toy, taking fabulous photos of moon and stars.