Choose the best binocular for you with our basic guide

Below is a breakdown of what the numbers mean, different types of coatings, magnification power and the objective lens diameter
Things to consider when buying binoculars:
Desired use
Optical quality
Viewing condition
Comfort and ease of use
Price
Once you have worked out what your budget is, what you value in a pair of binoculars and what you are going to be using them for, it's going to be easier to find a pair from our large collection.
Binoculars come in all shapes but they all have 2 numbers separated by an X.
The first number is the magnification
For example:7x50 binoculars would mean that the binoculars have a magnification power of 7; this means that the object appears 7 times closer than with the naked eye.If you were looking at a boat 100 meters away, using a pair of 7x binoculars would make that boat appear to be around 14 meters away.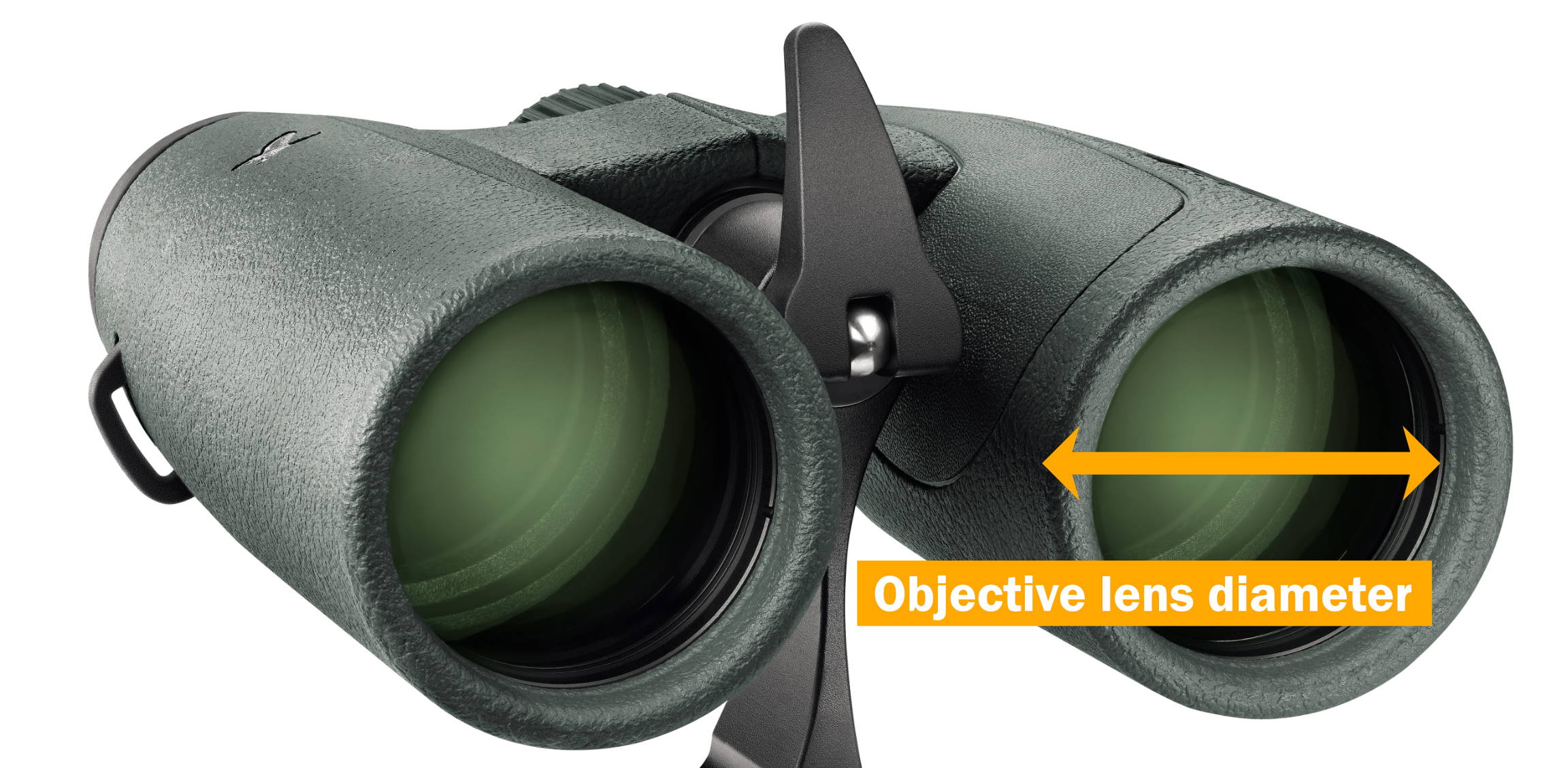 The second number is the diameter of the objective lens
Light enters the binoculars through the objective lens, the size of the lens will determine the brightness of the image as well as the exit pupil rating, which is used to measure performance in low-light conditions.
The magnification (7) divided by the lens diameter (50) = a 14mm exit pupil diameter The higher the number, the brighter the image during low light viewing. If you are planning on doing low light, sunset observation, go for a 40mm + lens size.
Field of view determines how much you see, horizontally in clear conditions at 1000 yards (914 metres).
If, while shopping for binoculars, you see a degree specification without a label, just remember that if it's a low number like 6.3 or 7.8, this will be the actual angle of view since it's referring to the angle at the objective lens. If it's a large number like 55 or 68 it is referring to the apparent angle of view.
More is better and not all binoculars are built equally in this respect. Manufacturers don't agree as to how to express this either on there specifications so if you wanted to work it out yourself, here are the formulas:
The first thing to know is that 1-degree = 52.5 feet at 1000 yards. From there you can start calculating.
So if you have an 8x42 binocular and that the FoV is 360', you can calculate that the AoV (Angle of FOV) is 6.9-degrees (360 ÷ 52.5) and that the AAoV (Apparent angle of view) is 55.2-degrees (6.9 x 8). By flipping these basic formulas, you can extrapolate any of the other values.
Just to show the relationship between magnification and FoV, if that binocular above was a 10x instead and the FoV was the same, the angle of view would remain 6.9-degrees, but the apparent angle would be pumped up to 69-degrees.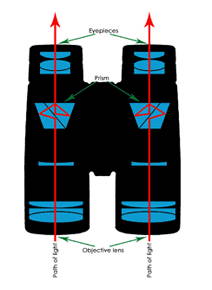 Roof Prism
Straight profile, eyepieces in line with objective lenses, fairly new design.
Pros:
More impact resistance than porro prisms

Compact

Lightweight

Normally waterproof

Higher optical quality, most top-end binoculars use roof prisms.
Cons:
More expensive than Porro prism binoculars
Slight image quality loss when not coupled with phase correction technology (most if not all binocular we sell have this technology)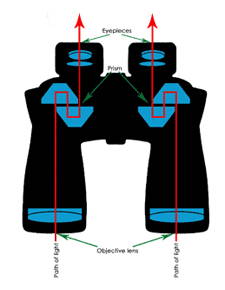 Porro Prism
Classic design, eyepieces set closer together than the objective lenses.
Pros:
Better image quality for your buck at the low end of the price scale
Typically have a brighter image due to a larger objective lens
Low cost
Cons:
Often not waterproof
Bulkier than roof prism binoculars
Less impact resistant than roof prisms
When light passes through an uncoated glass lens a little of the light is reflected back outwards. In a binocular light will pass through several layers of air and glass before reaching your eye. In very old or cheap binoculars this results in an image that is 50% darker.
Quality binoculars manufacturers avoid this phenomenon through the application of specially formulated coatings. Top end binoculars will have multiple coat layers on every optical surface.
As a general rule everyone's eyes are different, therefore when possible we suggest you try before you buy.
Binoculars are a personal item. What is good for one person may not be good for another. We really suggest you get into contact with us if you have no experience with binoculars. There is no "best" pair.
For advice on what binocular is right for you visit us and talk to one of our highly trained staff or send us an email.