Metal detector buying guide
Find the best metal detector for you with our basic guide

Metal detector buying guide
Currently an entry level detector costs anything between $170 and $700 NZD. These detectors are aimed at people looking for treasure (coins and jewellery) and generally offer a simple experience for first time users.
Try to keep in mind what is important when choosing your detector. Things like weight, size, features such as an LCD screen, internal speakers, built-in GPS, discrimination (so you don't dig up junk) and coil size are all important.
Some of the better entry level relic machines we sell are:
There are other machines that are cheaper than the above, but these offer the best bang for your buck with manual controls that can tune the detector to what you are trying to find.
Let's get started with some common questions that are frequently asked by first time buyers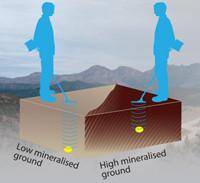 How deep does a Metal detector go?
You will notice that no brand lists this specification. Why? It's because it's impossible to answer.
The depth that any given detector will detect to will be based on a number of variables, including:
Size of the object

The ground it is buried under

How long the object has been buried

Moisture in the air and ground

Metal type

Coil size

Electromagnetic interference (power lines) etc.

The orientation of the object
Lots of these variables are outside of your control. Finding a 50 cent coin 15cm underground is normally well within the range of all entry level detectors.
Is bigger better when it comes to coils?
Short answer: no. Different coil sizes are used differently. A smaller coil would be better in high trash areas when several targets are close to each other, where a large coil is great for low-mineralisation areas and deep searching. Not all coils are round, some are oval-shaped for getting in between those hard to reach places.
Why do people always use headphones?
Sound isolation. A good set of headphones significantly increases your chances of finding buried objects by blocking background noise.
Using headphones will also improve your detector's battery life and won't attract unwanted attention from curious onlookers.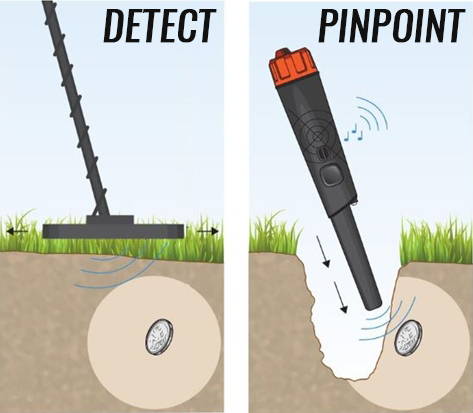 I've heard that pinpointers are a good idea but my detector comes with an in-built one, why should I buy one?
The accuracy of a handheld pinpointer far exceeds the pinpointing mode of a metal detector. With a bit of practice a good pinpointer will save you hours of time.
The narrower end of the pinpointer contains a miniature metal detector coil. When it is in very close proximity to metal it will alert you by sound or vibration. These tools are normally inserted into the hole you have dug where you think the object lies.
Gold Detector or Relic Detector, what's the difference?
Gold detectors are designed to find unrefined gold nuggets (as pictured), not jewellery.

Relic detectors will find gold in its refined form such as gold rings and bracelets, as well as other metal objects.

Some relic detectors also have a gold nugget mode, however a gold detector will typically outperform a relic detector in gold mode.