Contact us
Customer Reviews
Customer Reviews
Write a Review
Ask a Question
Binoculars in Time for the Global Big Day
These bins are great. Sharp, easy to focus, and small enough to be taken anywhere. I've been using them daily for a week now birdwatching around my local area and I am thoroughly impressed. They are a great replacement for my 20 year old binoculars that just wore out. I'm all set for the Global Big Day.
20/08/2021
Stephen C.

New Zealand
Very Pleased with my New Binoculars
I've used binoculars since around 1965. I haven't used any of the modern 'big name' brands.... although my Dad had some Leica 10x which we sometimes used. I've had several of my own pairs. Possibly the best of these was a set of either Russian or East German 7 x 50s with no brand name. I've bought maybe four other pairs... three from Aliexpress and one neat wee waterproof set from a Kiwi marine store. My new Celestron Nature DX binoculars have a clear, sharp image (through both eyepieces). They are the best pair I can recall using. I looked through my Dad's Leica binos comparatively recently, and these new ones are a whole lot clearer. They cost me maybe three or four times as much as a reasonable pair I got directly from China and while I don't think they give me an image that is three times clearer, I feel it definitely is better. Likewise, I doubt that binoculars costing four times as much as these Celestrons will have an image that is four times better. I should try some. I didn't need to buy these. I go hunting and nature watching, and my old binoculars are good enough. But I'm delighted to have the new pair with the bright, clear image. I'm sure I'll have a lot of pleasure using them. And I really like the fact they are waterproof. I believe this is my second purchase from Jacob's Digital and I've been happy with the service. Best wishes... Stephen Coote, Nelson, New Zealand.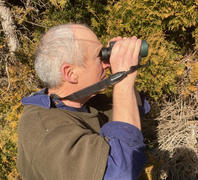 12/01/2021
Ashley H.

New Zealand
Celestron nature DX 8x42
I have been bird watching on Maungatautari. These binoculars are nice and clear, giving a bright colourful image even on a cloudy day. They are easy to setup and then focus giving all the details I missed before without them. Thanks for the quick delivery and for providing such a high quality product at a reasonable price.
Very impressive. I read all
Very impressive. I read all the instructions and set it up to my vision. I'm really pleased with them. My main interest is racing and I bought new binoculars last year and left them in a taxi leaving the racecourse in Christchurch afterwards. Too late to recover them, but I took the plunge and now I've bought some more and it looks like I've made the right decision. Thank you.