SkyWatcher EQ6-R Pro Belt Drive GoTo Mount
SKU: SWEQ6-R
SkyWatcher EQ6-R Pro Belt Drive GoTo Mount
SKU: SWEQ6-R
Our Price
or 12 months interest free
or 4 easy payments of $724.75
---
More on the way
Estimated time of arrival: Oct 12, 2021
Contact us
Customer Reviews
Customer Reviews
Write a Review
Ask a Question
01/04/2021
Dennis R.

New Zealand
Amazing mount
Just got the mount today, its heavy, but not as heavy as I thought. Moved the dowel on the mount so its over the front leg, as standard between the legs. Having it over the leg, makes altitude easier to adjust and if you use the polar scope easier to use also. The mount is easy to move, smooth and quiet also. Have not used it outside yet, as it is a slight learning curve compared to using my Evolution alt alz celestron mount. Got software working and playing with software on laptop. Got to play with HC to get used to it, a bit of reading and playing around before using it outside. As I am getting into EAA an EQ mount is better. Always have had excellent service from Jacob Digtial and always helpful. Received it before Easter which was great, got it in 2 days. Thanks Jacob Digtial for your exceptionally great service and highly recommend them highly. Now got to get used to taking off and putting on telescope, you do get used to it and becomes easier the more you do it. It was the same when I got my SCT 9.25, harder to mount when new but gets easier.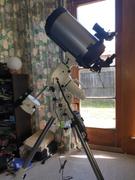 12/03/2021
Ruggiero L.

New Zealand
Very Solid Mount
I love this mount as it is very solid and it has 20kg payload. Unfortunately, the Synscan stopped working after 2 days so I had to bring it back to the store to get it fixed. The team fixed it for free and they told me that Synscan was not working as a pin was corroded. I think Skywatcher should be more careful :)
A solid quality mount.
I am very impressed with my EQ6-R Pro mount. Its not as heavy to manage as I thought so thats a bonus. It points and tracks very well. I am getting around 0.8 on PHD in poor sky conditions without using PEC, so pretty pleased with that. The only disappointment is that it only came with cigarette lighter plug for power which left me rushing around town to find an adapter before I could use it. A $2K plus mount should come ready to go I would have thought. Shame on you there Sky Watcher.